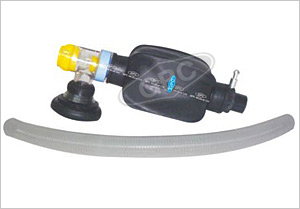 Product Description
Artificial Resuscitators (Ambu Bags) - Child
As an important Exporter and Manufacturer we offer innovative Ambu Bags, which are widely used in hospitals and emergency medical services. Generally known as manual resuscitators, we offer these self-inflating bags for baby care and adults. These are effective in providing positive pressure ventilation to the patients who can not breath adequately, especially the neonatal patient. Our Ambu Bags are really life-saving owing to their high level of quality and reliability. In order to ensure such aspects in the bags, these are made from the best medical grade material, and thus are environmentally safe and disposable.
Common Attributes:
Compressible & Self-Inflating
Easy To Use
Ergonomic Design
Lightweight & Convenient
Optimum User Comfort
Reliable & Affordable
Artificial Resuscitators (Ambu Type)-Child Artificial Resuscitators-Child, Black Rubber, with face mask.

Model No: AN 105

Size 000 or 00, packed in zipper case

AN105a- Blue Rubber
Other Products in 'Anaesthesia Products' category
Get in touch with us