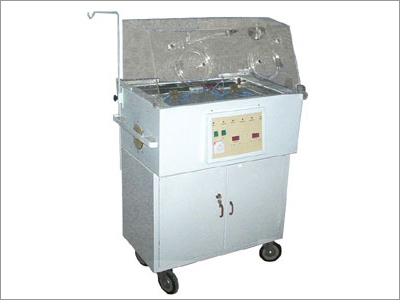 Product Description
Our firm establishment in this field has enabled us to manufacture and export excellent quality Baby Incubator. These incubators are used to provide oxygen, heat and food for premature new born babies. Advanced techniques are followed by our qualified professionals to manufacture these incubators. Manufactured using high-grade materials and components, these incubators are very durable and delivers high performance. The Baby Incubator which we offer are equipped with a digital microprocessor which checks on all important control functions.

GPC Incubator's provided with following Key Features:
Premature baby incubator
Continuously humidity is adjustable
Fan with very low noise
The incubator body is fully epoxy coated
Mute/Silence button when audio alarm is not required
Durable as well as Easy to operate
Infant bed angle is adjustable
Fully Soft Touch control panel system
High performance and Low maintenance
Easy-roll castor wheels mounted for easy mobility
Skin temperature sensor for recording Baby temperature
Dual display system for ambient & Skin Temp
Inclination angle easily adjustable for Infant bed
Fully Servo controlled temperature system ( With Microprocessor based )
Heater is electrically off if air temperature inside incubator exceed 40 °C
Alarm System ( In case of Power cut/failure, Temperature deviation, Over temperature, Temperature sensor failure, Fan failure )
Shelves are provided if cabinet is not required. (Optional)
Basic configuration :
Use of imported plexiglass,
Including infant cabin,
Chassis & Controller,
Infusion stand & Lift cabinet,
Temperature setting
Skin temperature sensor
Separate operating windows
Provided with attached I.V stand
Technical Specification :
Provided with audio/visual alarms when: High Temp. Cut Off., Infant's Temp. low, Infant's Temp. High,Heater Fails, Probe Fails, Power fails.
Heating System 32 to 37 degree C.
Humidification range is 40% to 60%.
Selectable Air & Skin mode with servo-controlled proportionate system of heating.
Other Products in 'Baby Care Equipment' category
Get in touch with us