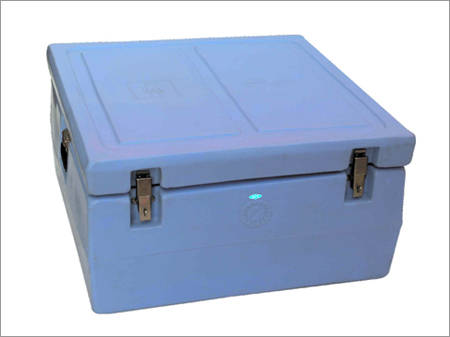 Product Description
We are a firmly established organization, engaged in manufacturing and exporting top quality Cold Boxes. These boxes are used to keep human organs, medicines & injection ampules and to sterilize medical instruments. These boxes are leakage free and spacious, therefore widely appreciated by our customers. Our trustworthy vendors facilitate us with supreme grade raw-materials to manufacture these Cold Boxes. Our clients can avail these boxes in many sizes at market leading prices.
Features:
Lightweight
Durable
Easy to maintain
Uses latest material
Very high cooling capacity.
Easy to carry with swing-up handle.
Comfort for long distance transportation.
Attractive design with Environmental protection.
Technical Specification:

Type of Cold Boxes
Large Cold box
(Long Range)
GPC-503L
Large Cold box
(Long Range)
GPC-316L
Large Cold box
(Long Range)
GPC-444L
Small Cold box
(Long Range)
GPC-264SL
WHO PIS Reference Number
E-4/92-M
E-4/93-M
-0
E-4/101 - M
Vaccine Storage Capacity
23.3 Litre
22 Litre
23 Litre
6.0 Liter
Weight Fully Loaded
47.5 Kgs
49.5 Kgs
47.0 Kgs
26.6 Kgs
Weight Empty
(with empty ice pack)
22.2 Kg
21.9 Kgs
22.0 Kgs
14.21 Kgs
External surface material
LLDPE*
LLDPE
LLDPE
LLDPE
Internal lining material
LLDPE
7LLDPE
LLDPE
LLDPE
Insulation material
CFC-free Polyurethane
CFC-free Polyurethane
CFC-free Polyurethane
CFC-free Polyurethane
Insulation thickness
100 mm
100 mm
100 mm
100 mm
Approx.External dimensions
(WxDxH)
77x62x52 cms
77x62x52 cms
77x62x52 cms
63x51x45 cms
Approx.Internal dimensions
(WxDxH)
52x37x28 cms
52x37x28 cms
52x37x28 cms
40x28x20.6 cms
Vaccine Storage dimensions
45x30x18 cms
45x30x17 cms
45x30x18 cms
33x21x10 cms
Lid Type and Fixings
Hinged
Hinged
Hinged
Hinged
Number of Ice Packs required
50
31
44
26
Number of Ice Packs supplied
50
31
44
26
Ice Pack Type (PIS Code)
E5/IP.2(Approx.)
E5/IP.1
E5/IP.2
E5/IP.2
Volume of Ice Pack
0.30 Ltr.
0.60 Ltr.
0.40 Ltr.
0.40 Ltr.
*(LLDPE: Linear Low Density Polyethylene)

Performance:

Conforming to WHO Specifications
E4/CB.2
E4/CB.2
E4/CB.2
E4/CB.2
Cold Life Requirement as per WHO at 43 C + 1C
Without Opening
Minimum 120 hrs.
Minimum 120 hrs.
Minimum 120 hrs.
Minimum 90 hrs.
Actual Cold Life without opening at 43 C + 1C as
tested by WHO approved Testing Lab, PSB
Singapore
(141 hours 12 minutes)
(173 hours 56 minutes)
(144 hours)
134 hours
Shipping Dimensions:
| | | | | |
| --- | --- | --- | --- | --- |
| Quantity in each carton (Nos.) | 1 | 1 | 1 | 1 |
| Gross Weight (approx.) | 25 Kgs | 25 Kgs | 25 Kgs | 16.3 Kgs |
| Size of carton | 78x63x53 cms | 78x63x53 cms | 78x63x53 cms | 64x53x44 cms |
| Volume of each carton | 0.28 CBM | 0.28 CBM | 0.28 CBM | 0.15 CBM |
| No. of Units per 20' container | 108 | 108 | 108 | 180 |
| No. of Units per 40' container | 228 | 228 | 228 | 38 |
Other Products in 'Cold Chain Equipment' category
Get in touch with us