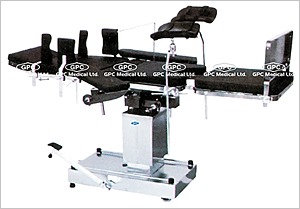 Product Description

We are a leading exporter and manufacturer of durable Operation Tables that offer comfort to patient and easy access to surgeon during an operation. These are specifically designed for perfect patient positioning, and flexible use. Also, robust and safe mechanism of these tables ensures maximum reliability in the operation. Our Automatic Operation Table is fine in functionality, use and adjusting, showing its easy mechanical procedures. Also durability, lightweight, convenience and versatility are some core concepts of the offered tables, as a result these are ideal for various medical and surgical tasks.
Salient Features:
Provide Ease in Operation
Easily Adjustable
Stainless Steel Construction
Rust Proof Body
Ergonomic Design
Stable & Agile
Excellent Locking System
Standard Accessories

Anaesthetic Screer
Lateral Supports
Shoulder Supports
Arm Rest (2)
Mattress
Operation Tables with different Models:
Operation Table for C-Arm ( Model No: GHF160.01)
Key Features:
Fully Oilmatic
Eccentric Pillars
Head End Control
Rust Proof
Inter-Changeable Head & Leg Section
Smooth Movements & Mobility
Specification:
Auto Locking Device Dimensions
Overall length : 190cm to 195cm Width : 57cm Height : 80cm(Min), 102cm (Max)
Positions : Trendlenberg & reverse Trendlenberg 320 - Lateral Tilt 200 - Head section 900 up and 300 down - Leg section Manual 900 - Flex 900 - Reflex 2200
Hydraulic Operation Table - Head End Control ( Model No : GHF156.01 )
Head End Control Operation Table with translucent top, is a Hydraulic Multifunction system. It's a multipurpose table which is specially designed to render complete solution for X-ray as well as major operations.

Key Aspects:
A single action hydraulic pump with double cylinder is effectively controlled by a foot pedal.
Five section translucent top that has perineal cut-out, perfect for drainage tray.
Stainless steel base.
Auto locking system.
Rubberized mattress, thickness 50mm.
Concealed gear mechanism.
Key Specifications:

Table Top: L1930mm XW497mm
Up-Down movement: 762-1067 mm
Lifting Position: 762 to 990 mm
Height Adjustment: 228 mm
Lateral Tilt: 20° both sides
Kidney Section up : 150mm
Flex/Reflex: 90°/220°
Trendelenburg & Reverse Position: 30°/25°
Head Section UP/DOWN: 30°/90°
Back Section UP: 80° to 90°
Standard Accessories:

Anaesthetic Screer
Lateral Supports
Shoulder Supports
Arm Rest (2)
Mattress.
Hydraulic Operation Table . Side End Control (Model No : GHF155.01)
Salient Features:

Excellent safety standards, designed to perform at low voltage for safety.
Six section translucent top.
Radiographic sheet thickness 12 mm.
Rubberized mattress thickness 5cm.
Hand switch controller and operation buttons to set each position.
Stainless steel panel base column.
Emergency power supply (Optional).
Provide best posture during surgery, table height can be adjusted in a range of 762mm to 1067mm.
Eccentrically positioned table top, having no cross members, to enhance the image intensifier accessibility for A/P as well as Lateral exposures.
Excellent patient positioning properties.
Full table length use with interchangeable Head & Leg sections.
Built-in kidney elevator.
Operating positions covers Lateral Tilt, Trendelenburg, Reverse Trendelenburg, Lithotomy, Chair, Break Back etc.
Easily controlled from side-end.
Stability and fast movements with sturdy base covering four swivel castors along with auto locking system.
Stainless steel base and column.
Stainless steel side rails.
Rubber bellow to protect the hydraulic system.
Dimensions:

183cm. x48.5cm.± 1cm.
Adjustable height: 7.62cm. to 9.87cm. ± 1.2cm.
Trendelenburg and Reverse Trendelenburg: 30° ± 3°
Standard Accessories:

Anaesthetic Screen
Lateral Supports
Shoulder Supports
Arm Rest (2)
Mattress.
Optional Accessories:

Complete accessories are available in Stainless Steel.
X-ray translucent top instead of Stainless Steel top.
Hydraulic Operation Table - Side End Control (Model No : GHF155.01)

Other Products in 'Operation Theatre Equipment' category
Get in touch with us