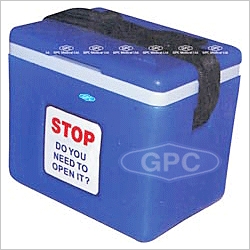 Product Description
We have carved a special position in the market by manufacturing and exporting top quality Vaccine Carrier Box. These carriers are used to protect medical instruments and tools from contamination. We manufacture these carriers using high-grade materials and components to meet the industry laid parameters and norms. The Vaccine Carrier Box is precisely checked by our expert professionals to offer defect-free products to our clients. Keeping in mind the diverse demands of our customers, we are able to offer these carriers in many sizes and designs.
Features:

Uses latest material
Very high cooling capacity.
Easy to carry with swing-up handle.
Comfort for long distance transportation.
Attractive design with Environmental protection.
Technical Specification:

Type of Vaccine Carrier
Small Vaccine Carrier
(Short Range GPC 24
Small Vaccine Carrier
GPC 44
Large Vaccine Carrier
GPC 24 D
WHO PIS Reference Number
E-4/89-M
E-4/90-M
E-4/91-M
Vaccine Storage Capacity
0.86 Litres
0.90 Litres
1.6 Litres
Weight Fully Loaded
2.0 Kgs
2.4 Kgs
4.2 Kgs
Weight Empty
(with empty ice pack)
1.0 Kg
1.4 Kgs
2.2 Kgs
External surface material
HDPE(1)
HDPE(1)
HDPE(1)
Internal lining material
HIPS(1)
HIPS(1)
HIPS(1)
Insulation material
CFC-free Polyurethane
CFC-free Polyurethane
CFC-free Polyurethane
Insulation thickness
20/25 mm
32/36 mm
35/40 mm
Approx.External dimensions
(WxDxH)
21.5x14.5x18.5 cms
25.0x18.0x21.0 cms
25.0x25.0x30.0 cms
Approx.Internal dimensions
(WxDxH)
16.8x9.8x12.0 cms
17.0x10.0x12.0 cms
16.5x16.5x22.0 cms
Vaccine Storage dimensions
16.8x9.5x5.3 cms
17.0x10.0x5.3 cms
10.0x10.0x16.0 cms
Lid Type and Fixings
Removable
Removable
Removable
Number of Ice Packs required
2
2
4
Number of Ice Packs supplied
2
2
4
Ice Pack Type (PIS Code)
E5/IP.2
E5/IP.2
E5/IP.2
Volume of Ice Pack
0.40 Litres
0.40 Litres
0.40 Litres
Performance:
Conforming to WHO Specifications
E4/VC.0
E4/VC.1
E4/VC.2
Cold Life Requirement as per WHO at 43 C + 1C
Without Opening
Minimum 8 hrs.
Minimum 16 hrs.
Minimum 24 hrs.
Actual Cold Life without opening at 43 C + 1C as
tested by WHO approved Testing Lab, PSB
Singapore
14 hrs. 1 min.
19 hrs. 25 mins
40 hrs. 19 mins.
Shipping Dimensions:
| | | | |
| --- | --- | --- | --- |
| Quantity in each carton (Nos.) | 12 | 12 | 8 |
| Gross Weight (approx.) | 14 Kgs | 21 Kgs | 20 Kgs |
| Size of carton (W x D x H) (approx) | 48x45x42 cms | 54x54x46 cms | 52x52x63 cms |
| Volume of each carton (approx.) | 0.09 CBM | 0.13 CBM | 0.18 CBM |
| No. of Units per 20' container | 3600 | 2508 | 1152 |
| No. of Units per 40' container | 7200 | 5016 | 2432 |
Other Products in 'Cold Chain Equipment' category
Get in touch with us